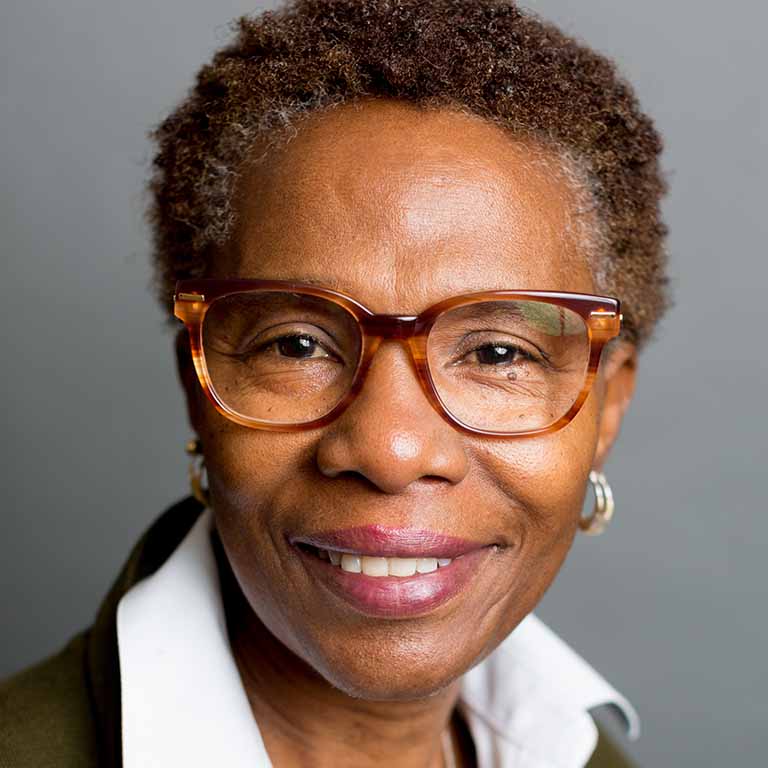 Valerie Grim
Director of Undergraduate Studies, African American and African Diaspora Studies
Professor, African American and African Diaspora Studies
Education
Ph.D., Iowa State University, 1990
Recent Publications
Books
"The Co-existent of White Paternalism and Black Self-Determinism in a Mississippi Delta Community 1910-1970" (draft completed)
"Caught Between Forty Acres and a Class Action: Black Farmers Protest Against The United States Department of Agriculture, 1995-2005." (in progress)
Edited Volumes
In press (associate editor) "Mississippi Agriculture and Rural Life," a section in Mississippi Encyclopedia. Ted Ownby and Charles Wilson, Eds. Jackson, MS: University of Mississippi Press.
2009 Rural Women, Families, and Children of Color, a special issue of Black Women, Gender, and Families 1(3).
Refereed Journal Articles
2009 "The Experiences of Rural Women, Children, and Families of Color in U.S. and Global Communities." Black Women, Gender, Families 3 (1):1-15.
Dr. Grim recently edited a special issue of Journal of Black Women, Gender, and Families (University of Illinois Press): Spring 2009, Volume 3, Number 1. The four‐article issue, entitled Rural Women, Families, and Children of Color in Global Communities, examined HIV‐AIDS in Sub‐Saharan Africa; religion among black women in Brazil; ways in which rural black children in the U.S. unlearn racism; and the role of the federal government in addressing rural poverty, literacy, and cultural needs. Her essay, "The Experiences of Rural Women, Children, and Families of Color in U.S. and Global Communities" was published in this special volume. In addition, Dr. Grim's essay, "Our Stories of Mentoring and Guidance in a Higher Education and Student Affairs Program," (with Kandace Hinton and Mary Howard‐Hamilton) was published in Standing on the Outside Looking In: Underrepresented Students' Experiences in Advanced‐Degree Programs. Several book reviews were published in MS Magazine, Western Historical Quarterly, Journal of Ohio History, and Journal of Agricultural History.
Dr. Valerie Grim is a Professor of African American and African Diaspora Studies at Indiana University-Bloomington. She holds a M.A. and Ph.D. in history from Iowa State University and received the undergraduate degree from Tougaloo College, a Historically Black College located in Tougaloo, Mississippi. She currently holds positions as Director of Undergraduate Studies and Director of the Thomas I. Atkins Living Learning Community. She is the former chair (12 years) of the Department of African American and African Diaspora Studies as well as former Director of Graduate Studies. She has engaged in diverse committee work in and outside of the academy. These efforts have spanned more than 30 years and over 60 different committees, many of which involved engagement with students and collaborations with academic and living communities throughout the United States and Africa.
As a scholar, Grim researches and publishes in the area of twentieth and twenty-first centuries African American rural history.  She has conducted research and provided lectures in North America, Europe, South America, Asia, Africa, and the Caribbean. Currently, she has completed Between Paternalism and Self-Determination: Rural African American Life in a Yazoo-Mississippi Delta Community, 1910-1970 (revision in process for publication).  She has completed a book (also under revision) on the Brooks Farm Community, formerly known as the Brooks Farm plantation located in Sunflower and Leflore Counties in the Yazoo-Mississippi Delta. Her current book projects--Between Forty Acres and a Class Action: Black Farmers ' Protest against the United States Government, 1995-2010s and Black Land Grant Universities and African American Rural Development, 1990 to the present--focus on the needs of African Americans  in rural America and efforts to help them achieve full democratic participation and engagement with federal farm and rural development policies and programs.  She also is co-authoring a volume on Rural Students in Higher Education.  Grim has edited several journal special issue volumes, including Agency Reduction in the Experiences and Realities of Africana People (International Journal of Africana Studies, (2018);  Spirit, Mind, and Body: Research and Engagement in an African American and African Diaspora Studies Graduate Course (Black Diaspora Review, (2011); The Experiences of Rural Women, Children, and Families of Color in U.S. and Global Communities (Rural Women, Families, and Children of Color (2009);   and American Rural and Farm Women (Agricultural History, (1990)
Grim has published widely in leading journals, anthologies, and edited volumes. Articles have appeared in such journals as: Agricultural History; Frontier: Journal of Women's History; Black Women, Gender, and Families; Oral History; Journal of Rural Development and Perspectives; Great Plains Quarterly; Locus: An Historical Journal of Regional Perspectives on National Topics; and Living History Farms and Agricultural Museums. 
Book chapters have appeared  in edited books such as: Service as Mandate: How American Land-Grant Universities Shaped the Modern World (2015); Beyond Forty Acres and a Mule: African American Landowning Families Since Reconstruction (2012); Women Writing Women (2006); Rural African Americans in the Twentieth Century (2003); Oral History: The Frontiers Reader (2003); Outside In: African American History in Iowa (2001); The International Library of Critical Writings in Business History Series: Women in Business (1999); Unrelated Kin: Race and Gender in Women's Personal Narratives (1996); and Eli's Whitney Cotton Gin, 1793-1993 (1995);  and American Farm Women in Historical Perspectives (1994).
During her thirty-year career as a scholar, an academic leader, public intellectual, and social activist, Grim has worked as a consultant, researcher, and field producer on numerous museum and creative projects as well as rural history and development workshops.  She was a consultant for: the Charles H. Wright Museum of African American History in Detroit Michigan,; the Conner Prairie Museum, Fishers, Indiana; Living History Farm, Urbandale, Iowa; African American Museum, Cedar Rapids, Iowa; Woodville Public Museum, Woodville, Mississippi; and Henry Ford Museum, Dearborn, Michigan. Her documentary work includes such film as Black Is, Black Ain't, and a radio documentary, America in the Twentieth Century: Claiming A Piece of the Piece.  She conducts workshops about rural Black experiences in the United States, Africa, South America, and Europe. Relevant content concerned such issues as land and ownership, heir property rights, history of various landed peoples, race, politics, gender, culture, and community identities. 
As a professor, she teaches undergraduate and graduate courses in the areas of African American and African Diaspora culture, history, politics, identity, literature, with intersections related to popular culture, sexuality, economics, and others.  She has directed numerous theses and dissertations
 Dr. Grim is the recipient of numerous grants and awards for scholarship, teaching, and engagement.