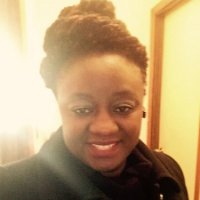 Nana Abena Dansowaa Amoah
Ph.D. Student
Education
Bachelor of Music, University of Ghana, Legon
Master of Philosophy, Ethnomusicology, University of Ghana, Legon
Research Interests
cross cultural studies: African American and African Diaspora literature; representation of women in popular music; black religious music; black women musicians; diet/keeping in shape
Biography
I am from Ghana and have been studying here in IUB since August 2010. I studied music for my undergraduate studies and started my Master's degree at the University of Ghana. During my second year, I won a scholarship to University of Hannover in Germany to research and write my master's degree thesis (known as dissertation on that campus).
In my one-year fellowship in Germany, I taught students introduction to African studies and African Drumming. In returning to Ghana, as a research assistant with the Center for Gender and Studies and Advocacy (CEGENSA), an affiliate of the Institute of African Studies at the University of Ghana. There, I embarked on these projects: "Changing Representation of women in Popular music" and " Ghanaian women Entrepreneurs in rural areas in Ghana", which were sponsored by the World Bank. I also taught at the University for two years prior to my travel to the U.S. to start my Ph.D. studies. So far, I have enjoyed my stay at IU, but I am still trying hard to make it my second home considering the difference in weather and the food we eat locally.
Currently I am an Associate Instructor (AI) for African American and African Diaspora Literature course in the AAADS Department. So far, it has been very productive. I love sharing knowledge and this puts me in the right position. I have also been in the African American Choral Ensemble since I arrived at Indiana University (IU), and it is an experience I could not have afforded to miss. I always make sure that I put on a smiling face because it takes away all my stress.
Courses Taught
University of Ghana: Introduction to African Studies, African Music and African Traditional Instruments (Drums).Graduate Assistant: International Centre for African Music and Dance / Emeritus Prof J. H. Kwabena Nketia Archive.
Indiana University, Bloomington: Associate Instructor: Groups Theatre Program (Summer 2011), African American and African Diaspora Literature (Fall 2011).
Associate Instructor (AI)- A131-Fall 2011 - A132- Spring 2012
Associate Instructor (AI) A150. Survey Culture of Black Americans. Fall 2012 to date
Co-instructor -- 2013 Study Abroad Program to Ghana 'A Transatlantic Experience; Studying the Triangular Trade' for the Office of the VP for Diversity, Equity and Multicultural Affairs. Traveled with Students to Ghana and the United Kingdom for a month, May 8- June 8.
Co-Instructor -- two-week workshop 'African Arts in Education: African Music and Dance,' for the Department of African Studies. June 4-1, 2012 & June 17-28, 2013.
Associate Instructor, Groups Theater Program. June 2013
Organized a two-week workshop: 'African Arts in Education- African Music and Dance' African Studies Program. IUB. June 4 – 15, 2012.
Associate Instructor –Groups Theatre 2012
Publications
"Africa Today", a refereed journal, in the September 2011 issue: Book Review Essay:
Ampofo, Akosua Adomako, and Signe Arnfred, editors. 2010. AFRICANIST FEMINIST POLITICS OF KNOWLEDGE: TENSIONS, CHALLENGES, AND POSSIBILITIES. Nordiska Afrikainstitutet.
Michael Jindra and Joel Noret. Editors. Forward by Jan Vansima. Funerals in Africa: Explorations of a Social Phenomenon. Oxford and New York: Berghan Books, 2011; 264. 'African and Asian Studies, Volume 12, Issue 1-2. Publication Year 2013.
Conference Papers
Games and Play Songs in Ghana: 'Their Impact on the Ghanaian Child' Kano, Nigeria. October 2010
An Investigation of African American Music; 'Is it African Enough'
Sounds of Evolution: A study of 'Osibisaba' Highlife and 'Folk Spirituals' of Africa and Africans in the Diaspora. ASA Conference, Washington DC. Nov 2011
She looks cute on Stage: Ghanaian Women musicians keeping in Shape and Talking Health. Ethnographic and Qualitative Research Conference, 1&2 ND July 2012. Cedarville, Ohio.
Book Reviews
Aissata G. Sidikou and Thomas A. Hale Eds. 2012. Women's voices from West Africa. An Anthology of Songs from the Sahel. Indiana University Press. Bloomington and Indianapolis.
Charry Eric 2012. Ed. HIP HOP AFRICA: NEW AFRICAN MUSIC IN A GLOBALIZING WORLD. Indiana University Press. 404.pp.
Honors and Awards
2005- Volkswagen Foundation- One year Fellowship in University of Hannover, Germany.
2010 – Three year Fellowship by IUB for PhD study.
2011 - Conference Grants from AAAD
2011- Office for Women Affairs (OWA)- Travel Grant
2011-2012: College of Arts & Sciences Travel Award
2012- African Studies Research Grant
Professional Organizations
African Studies Association, USA
National Council of Black Studies (NCBS)
African Third World Societies (ATWS)