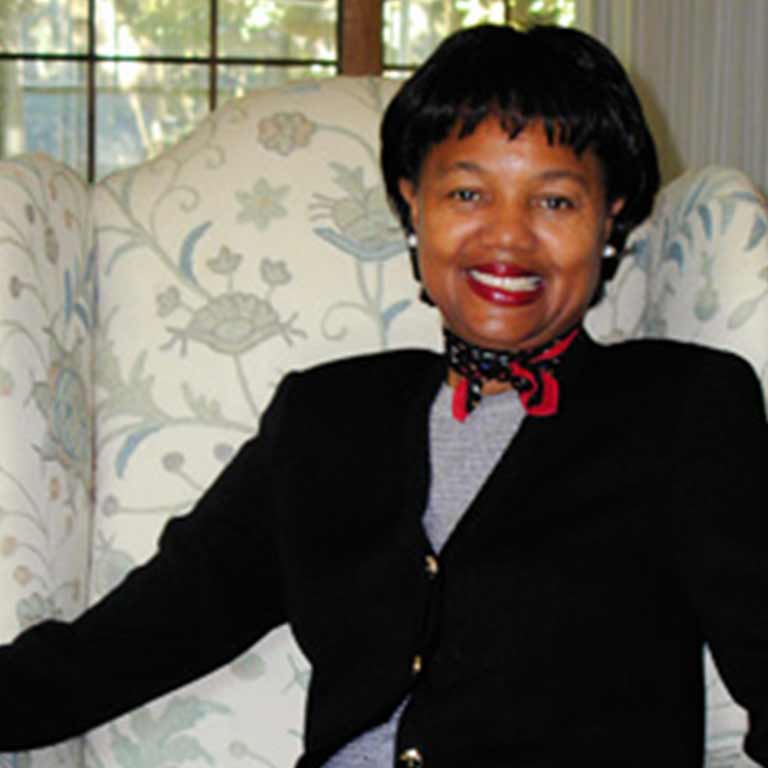 Carolyn Calloway-Thomas
Chair, African American and African Diaspora Studies
Education
Ph.D., Indiana University Bloomington
About
Carolyn Calloway-Thomas studies intercultural communication, African American communication, intersections between empathy and conflict, and pedagogy and civic engagement. She is currently the President of the World Communication Association. She has served in many leadership positions, including President of the Bloomington Faculty Council at Indiana University, Communication National Advisory Board, Director of the Interracial Communications Project (funded by the C. S. Mott Foundation), and past president of the Central States Communication Association (CSCA).
In 2012, she was inducted into the CSCA's Hall of Fame. In 2007, she was invited to participate in the Oxford Round Table conference on diversity and public policy at Oxford University in England. Her national awards include a Ford Postdoctoral fellowship; a Fulbright scholarship in Nigeria, West Africa; a Carmegie scholarship; the National Communicaiton Association's Robert J Kibler award; and the Distinguished Alumni award from Grambling State University. She currently serves as Book Review Editor of the Howard Journal of Communications and as a member of the editorial board of Journal of Intercultural Communication Research, a publication of the World Communication Association.
Publications
Handbook on Intercultural Communication between North Americans and Chinese with Yingli Zhou (forthcoming in 2018).
Empathy in the Global World: An Intercultural Perspective. SAGE, 2010.
Intercultural Communication: A Text/Reader. With Pamela J. Cooper & Cheri J. Simonds. Pearson, 2007.
Intercultural Communication: Roots and Routes. With Pamela J. Cooper and Cecil Blake. Allyn & Bacon, 1999.
Dr. Martin Luther King, Jr. and the Sermonic Power of Public Discourse. Edited with John Lucaites. University of Alabama Press, 1993.
"The Role of Empathy in Fostering Intercultural Competence" with Deardorff & Arasaratnam-Smith in Intercultural Competence in Higher Education: International Approaches, Assessment, and Application. Edited by Darla Deardorff & Lily Arasaratnam-Smith, Routledge, May 2017.
"Mary Ann Shadd Cary: A Crusader for Cultural, Economic and Political Rights." Women's Social Movement Website, pp. 1-8, Spring 2014.
"Mary Ann Shadd Cary: Crafting Black Culture through Empirical and Moral Arguments, " Howard Journal of Communications (July 2013) 24 (3), 239-256.
Barbed Wire Enclosed Spaces and Places: Elites, Ethnic Tensions and Public Policy." Forum on Public Policy Online: A Journal of the Oxford Round Table. (2007): 1-19.
"Disgrace and Identity Construction in South Africa." With Jack E. Thomas. In Intercultural Communication: A Text/Reader. (2007): pp. 89-97.
"W. E. B. Dubois and the Souls of Black Folk: Generating an Expressive Repertoire for African American Communication." With Thurmon Garner. In Dolan Hubbard (Ed.). The Souls of Black Folks: One Hundred Years Later. University of Missouri Press. (2003): 251-268.
"African American Orality: Expanding Rhetoric." With Thurmon Garner. In Ronald L. Jackson & Elaine Richardson (eds.). Understanding African American Rhetoric: Classical Origins to Contemporary Innovation. (2003): 43-56.
Selected honors and awards
2012 Inducted into the Central States Communication Association's Hall of Fame
2011 Lambda Pi Eta Outstanding Undergraduate Faculty Award
2011 Teaching Honor, National Communication Association
2007 Participant, Oxford University Round Table on Diversity in Society, Oxford in England
2004 Commission on Multicultural Understanding Faculty Award
2003 Distinguished Service Award, Interracial Communication Project Group
2000 Carnegie Scholarship
1999 Robert J. Kibler Award, National Communication Association
1990 Fulbright Scholarship